Remember my swap project to make these

R

A

I

N

B

O

W

sorting mats

?
To make them, I needed to print them big enough to sort onto- 8.5 x 11 was just not going to be big enough! Not even legal size! I wanted BIG - poster size! Have you ever had that urge before?
So, I made the file (available here: Carol's Rainbow Sorting Mat)
Then, I started looking for where to print, and figured the local Office Max would be it!
However, the price there is $30! Yikes! This was for a swap, too, which meant I would need to print 10 of these. $300. INSANE.
Google is my friend though. So, I typed in "cheap poster printing"...
and quickly discovered a marvelous, marvelous business:
Their prices were phenomenal in comparison to Office Max: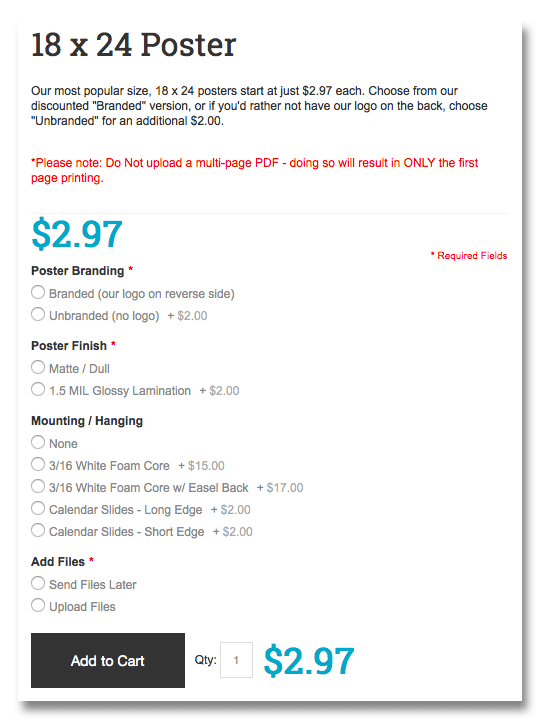 It gets better! They are trying to expand their business and get the word out that they are not insane with prices like your local office supply store copy and print. They agreed to let me try out the quality of their printing and service, and in exchange I am reporting to the world here what I think of their product. So, in my order went. Along the way, they were super easy to get in touch with and very friendly.
Soon, it arrived:
There are my posters, just my .pdf shared above printed on 18 x 24 inch glossy paper. Pretty!
They were delivered in a very sturdy cardboard tube, which will be quite fine as a chute when my kids build roller coasters during our force and motion science unit!
The printing was crisp and just as vivid as the colors were when I selected them in making the sorting mat. The paper is a good weight for a poster, and with the good packaging not the least bit wrinkled or creased.
The next time I need something printed BIG, I know where my business will go. I hope you'll keep them in mind, too.
You can go check them out yourself by clicking their logo:
What would you print poster size for your classroom? Leave a comment and share your ideas! I will be picking 2 winners to receive a free 18x24 poster printing from shortrunposters.com.

Enter this rafflecopter:






a Rafflecopter giveaway
Note: Although they did my order free in exchange for me doing a review here, this is my true and honest opinion of shortrunposters.com. I am really thankful for the posters they sent me, so the posters I am offering here are on me, not them. :)
_________________________________________________________________________________
On a side note, I just received the "One Lovely Blog" award. Since I just got the Versatile Blogger award, I am not going to do a whole post devoted to this one, but please check out the Versatile Blogger award link and all the great blogs I linked to there.
But first, go visit the lovely blogger who gave me this award:
Karmen's Kinders of Room 103
Thanks for visiting my blog!
-Mrs. Cobb